The list of Speakers and their Talking within the 6th IAMRS International Conference
1. Basra Health Office Speech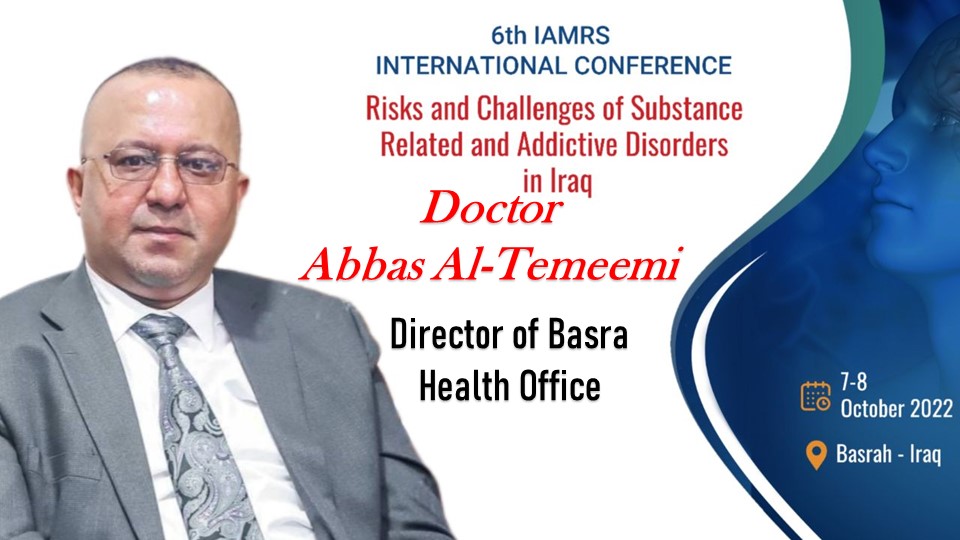 To download the lecture of Dr. Abbas Altememmi click here
Director of Basra Health Office Speech
2. Director of Mental Health Office at Minstery of Health speech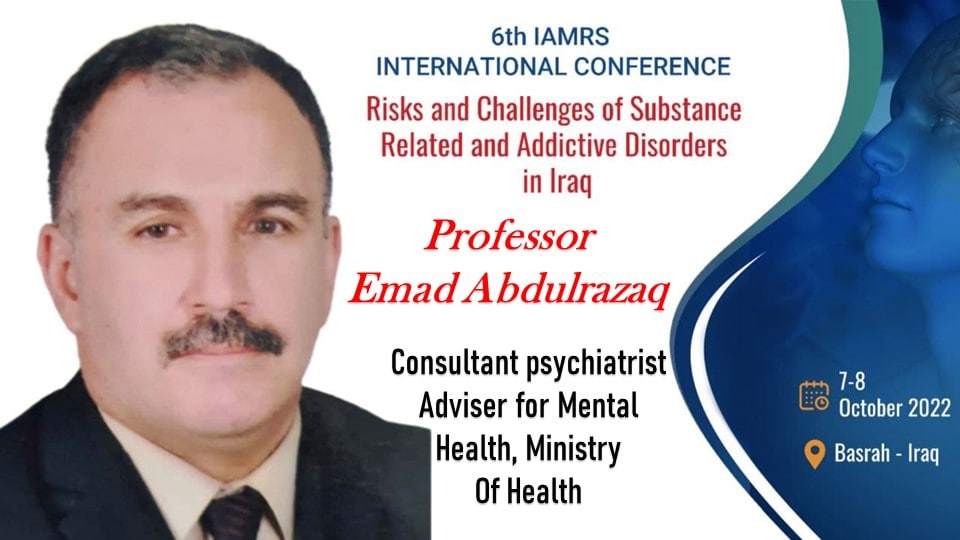 Dr. Emad Abdulrazaq Speech at 6th IAMRS International Conference can be downloaded now
Adviser of Mental Health in Health Minstery Speech
3. Professor Dr. Mohammed Al-Uzri Speech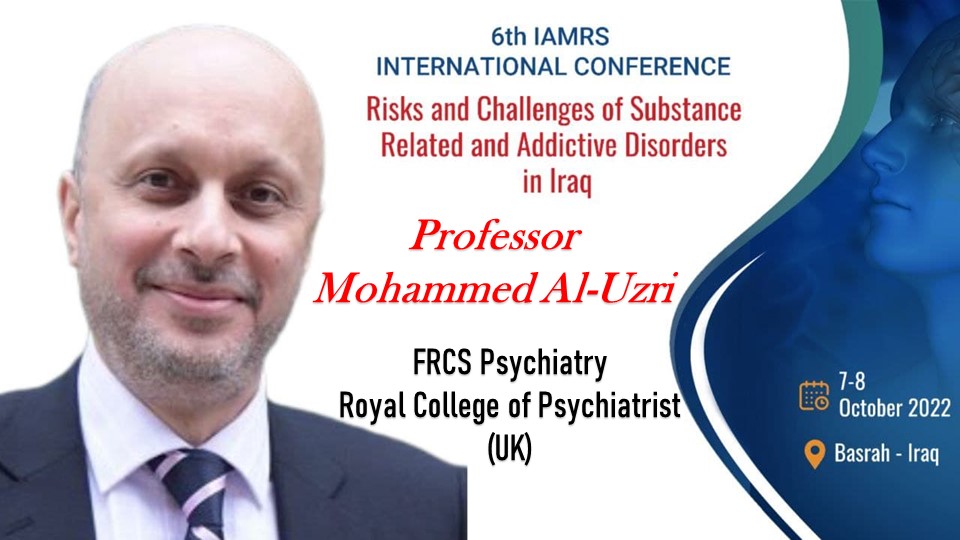 The speech of professor Dr. Mohammed Al-Uzri can be downloaded now
4. Dr. Walid Sarhan Speech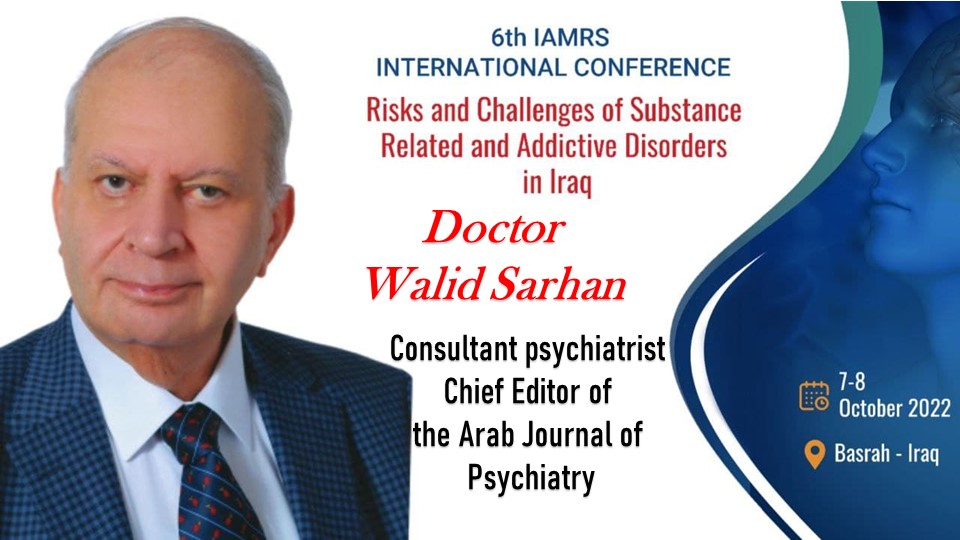 You can download the lecture of Dr. Walid Sarhan via the following link
5. Dr. Akeel I Al-Sabbagh Speech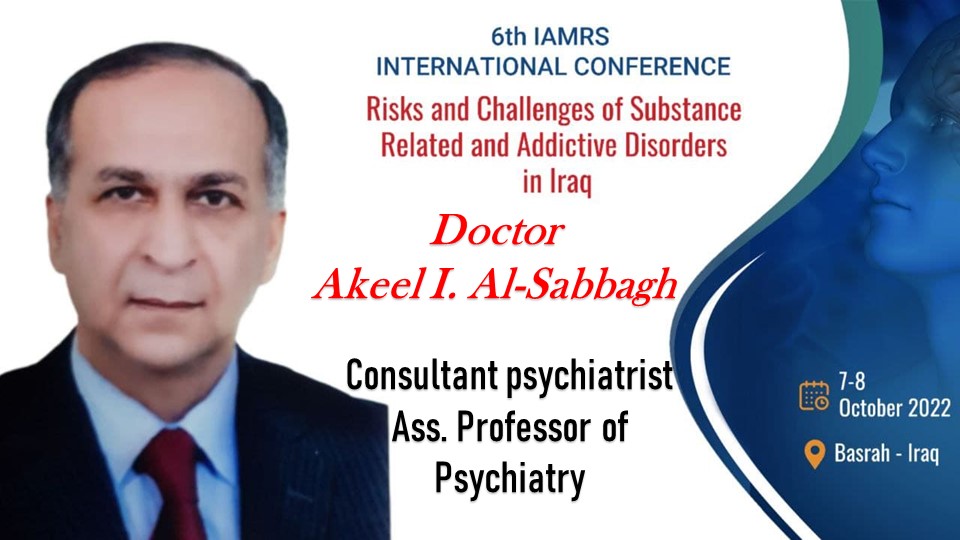 To download the lecture of Dr. Akeel I Al-Sabbagh click here
6th IAMRS International Conference
Risks and Challenges of Substance Related & Addictive Disorders in Iraq
---
After the remarkable successes achieved by the Iraqi Association for Medical Research and Studies IAMRS in holding five international conferences that dealt with many medical and health topics of international, regional and local interest, the Iraqi Association for Medical Research and Studies embarked on preparing for the establishment of the 6th International Conference of the Iraqi Association for Medical Research and Studies under the title
"Risks and Challenges of Substance Related & Addictive Disorders in Iraq".
---
---
This topic will be addressed due to its importance and the growing risks of it after the spread of many addictive substances among societies and the exacerbation of the phenomenon of drug trafficking the existence of social, economic and political problems that increase the pressure of this phenomenon on the institutions of society and the governments.
---
The conference will be held on the 7th and 8th of October, 2022.
---
So many well recognized speaker on both the national and international level will attend the conference.
The conference will include workshops and discussion seminars on addiction.
The conference will be sponsored by Basrah Governorate in the halls of the Grand Millennium Hotel in Basrah.
---
---
To download the conference committees, brochure, Submission & Registration Deadlines in a PDF form
---
---
Conference Scientific Committee
| | | |
| --- | --- | --- |
| Name | Affiliation  | Picture |
| Dr. Nessif Jassim Al- Humairi | Professor in psychiatry,  President of the scientific council for psychiatry – Iraqi council for medical specialties | |
| Dr. Jamal Abdulzahra Muzil | Psychiatric senior, FRC Psych,  Member of Iraqi association for medical research and studies | |
| Dr. Emad Abdulrazzaq Abdulghani | Consultant psychiatrist,  Mental health advisor at the ministry of health | |
| Dr. Mohammed al-Uzari | Professor in psychiatry,  FRC psych – Royal college of psychiatrists/ United Kingdom | |
| Dr. Aqeel Ibrahim AL- Sabbagh | Consultant psychiatrist / FRC Psych,  Assistant professor Basrah medical college / Iraqi achiever of psychiatry | |
| Dr. Mahdi Abdulkareem | Consultant psychiatrist,  Director of the department of psychiatry/ Wasit health department/ Wasit college of medicine | |
| Dr. Jawad Kadhim AL-Diwan | Professor in community medicine/  University of Baghdad College of medicine | |
| Dr. Syeda Tatheer Zahra Shamsi | Clinical Psychologist,  Canterbury Christ Church University/  West Kent Personality Disorder Service, NHS (UK | |
| Dr. Arafat Aldujaili | Consultant psychiatrist,  Associate Dean of Scientific Affairs, College of Medicine, Kufa University | |
|  Dr. Awatif Hameed Issa    | Immunologist,  University of Basrah/College of Science | |
| Dr. Ahmed Najim Abood     | Pharmaceutics,  University of Basrah/ College of Pharmacy | |
| Dr. Asia Selman Abdullah | Pharmacology and Toxicology,  University of Basrah/ College of Pharmacy | |
| Dr. Oday Sajjad Alsawad | Pharmaceutics,  University of Basrah/ College of Pharmacy | |
---
---
Organizing Committee 
Organizing Committee 
Dr. Basim Abdulkereem Alhijaj
Dr. Dheaa Sh. Zageer
Dr. Dhurgham Arif Abdulwahid
Dr. Hiba Abdulhussain alsufer
Dr. Zuhair Abdulkareem Abdulridha
Dr. Ameen Zamil Alshuwaili
Dr. Haithem Hussein Ali
Dr. Ghada Waleed Abdulmalek Alkamel
Dr. Zainab Ali Kammad
Dr. Ahmed Qasim Jebra
Dr. Sadik Hassan Kadhem
Dr. Amer Salman Dawood
Dr. Wael Jassim Alshihaby
Dr. Husham Husain Abdul-Ra'aoof
Dr. Abbas Jumah Hamdan
Dr. Abbas Abdulzahraa Alhassani
Dr. Alaa Hussein Abed
Dr. Muntasser yaqoob yousif
Dr. Hisham Salman Abdulkareem
Dr, Ahmed Fadhel Hassan
Dr. Amjed Hayder Ali Altaee
Dr. Salih Mudher Salih
Dr. Qussay Nfawa Almaliki
Dr. Ali Gassab Altaai
---
SUBMISSION IS CLOSED
---
The deadline for abstracts Submission is August 31, 2022.
The last time for researchers to be notified about article acceptance is September 15, 2022.
You can register to attend the conference via the link below
Registration is closed see you at the conference activities