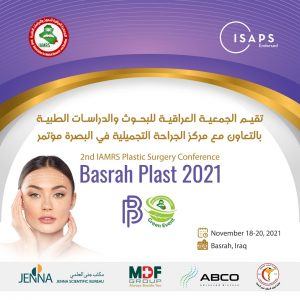 After the great success of first international conference plastic surgery in Basra (Basraplast 2019) that had been hold in Basra 2019, The Second International Plastic Surgery Conference (Basra plast 2021), will be held on 18-20 November 2021 , is a new opportunity to learn about many of the plastic techniques that have entered the field of plastic and reconstructive surgery during the last years.
The conference comes after a long closure due to the Corona pandemic
The Doctors who are eligible to participate in this conference will be
1. Plastic Surgeon
2. Facial Plastic Surgeon
3. Dermatologists
4. Oculoplastic Surgeons
SUBMISSION IS CLOSED … WAITING TO SEE YOU IN OUR GREAT SCIENTIFIC EVENT IAMRS
You can attend the conference via filling the Registration Form
REGISTRATION IS CLOSED 
THERE WILL BE AN ONSITE REGISTRATION AVAILABLE AT THE CONFERENCE REGISTRATION SITE FOR THE ELIGIBLE PARTICIPANTS ONLY
For more information contact the
Dr. Amer S. Dawood , Plastic Surgeon
Cell phone: +9647801336393
E.mail: amer_dd@yahoo.com
Hotel Reservations
---
1. Basra International Hotel
Its the hotel were all the conference activities will be held.
For reservations you can contact the hotel Reception via the following information
Website : Basra International Hotel
Phone : 07815555472
Email : info@bih-iq.com
N.B: SPECIAL DISCOUNT IS OFFERED FOR THE CONFERENCE ATTENDANTS 
SINGLE ROOM : 208 IQD
DOUBLE ROOM: 273 IQD
2. Basra  Tourism Hotel
Its a 5 star hotel that is located 1 Km from the conference activities Hall .
For reservations you can contact the hotel Reception via the following information
Website : Basra Tourism Hotel
Phone : +9647729552955
Email : info@basratouristichotel.com
N.B: SPECIAL DISCOUNT IS OFFERED FOR THE CONFERENCE ATTENDANTS 
SINGLE ROOM : 80 USD
DOUBLE ROOM: 140 USD
3. Horizon Hotel
Its 5 star hotel that is located 1 Km from the conference activities Hall
For reservations you can contact the hotel Reception via the following information
Website : Horizon Hotel
Phone : 07715550006
Email : info@horizonhotel.iq
N.B: SPECIAL DISCOUNT IS OFFERED FOR THE CONFERENCE ATTENDANTS 
SINGLE ROOM : 100 USD
DOUBLE ROOM : 125 USD
IAMRS hope to see you at this scientific event
SPONSORED BY