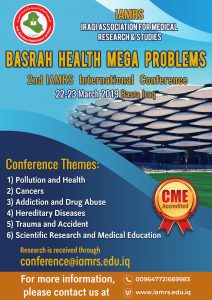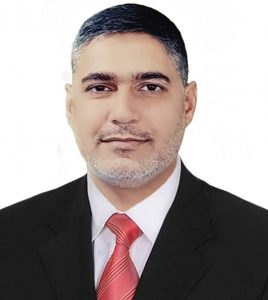 Greeting …
After the great success achieved by the Iraqi Association for Medical Research and Studies (IAMRS) in its first scientific medical conference and in response to the environmental and medical conditions in the province of Basra, I invite you to participate in the second international scientific medical conference scheduled at the twenty-second and twenty-third of March 2019.
The conference will be under the slogan
"(Basrah Health Mega Problems").
It will cover the subjects of environmental pollution, addiction, cancer, trauma and accidents and heriditary diseases, in addition to its constant focus on medical research and education.
I take this opportunity on behalf of the members of IAMRS invite you to participate in this carnival event, which will be held on the land of Basra province in the presence of large official and scientific Iraqi and international participation.
Many of researchers from Iraq and foreign countries will participate in this conference.
We are pleased to offer this great scientific and medical effort to serve the human being and health as a nobel goal .
Dr. Hayder Al – Tameemi
President of IAMRS
President of the Conference
---